PUBG MOBILE 2.1 Update Announcement
PUBG MOBILE will begin pushing out the update on July 11 at 11:00 (UTC +0). Service will not be interrupted. Please make sure you have a good network connection and have enough space on your device.
Update Reward: Update the game between July 11–17 (UTC +0) to get 3,000 BP, 100 AG, and a Wild Rave Helmet (3d).
Key Updates
New Themed Mode: Ancient Secret: Arise is here! Explore the secrets of the Emperor Temple!

BLACKPINK's first global virtual concert lands in PUBG MOBILE!

Overhauled Chat Feature: Bring up chat with one tap and enjoy real-time voice chat with friends!
Themed Game Mode - Ancient Secret: Arise
Golden sand fills the air upon Pharaoh's return. Explore the mysteries of the Ancient Secret!
Explore the Ancient Secret
In the midst of a thick sandstorm, the quicksand statue of Pharaoh reappears. Danger lurks in every corner of this mysterious ruin protected by Mummy Warriors, but at the same time, there is no doubt that it is filled with hidden treasure. Will you be able to survive the Sandstorm Zone and escape with great riches?
Maps: Erangel, Miramar, Livik
Monument Tour
Pass through the Quicksand Path and enter the Emperor Temple, then step on the slates in order to activate the dormant Ancient Secret to make the Sand Giant move around the battleground with the Ancient Secret on its back. Watch the route on the mini-map carefully to jump back into the Playzone at any time.
You will receive extra spoils from Pharaoh if you hop on the Ancient Secret, activate Pharaoh's sealing slates, and pass his trial!
Maps: Erangel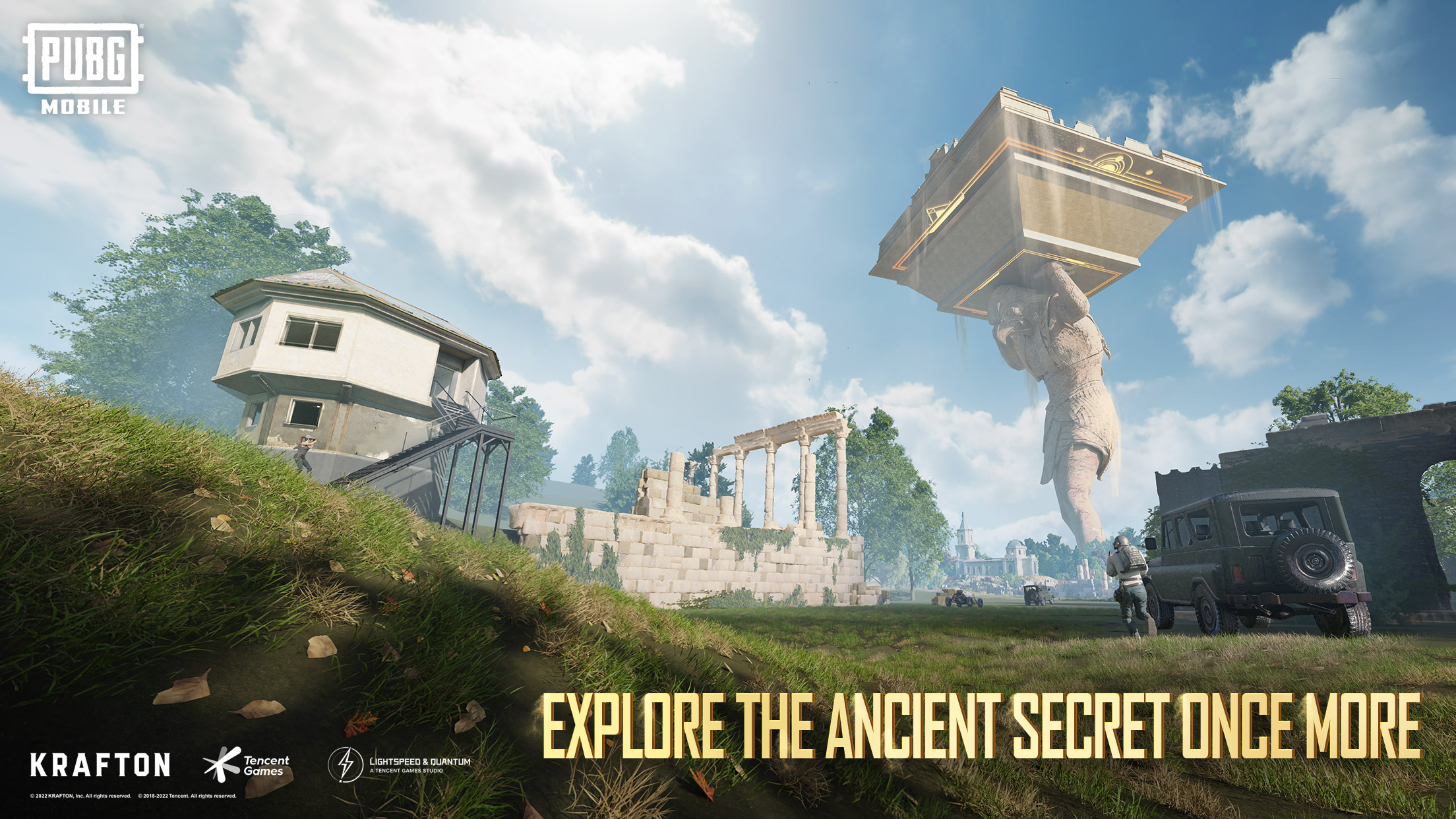 PUBG MOBILE × BLACKPINK Collaboration
BLACKPINK's first global virtual concert in PUBG MOBILE! Let's dance to the music and have fun!
Debut Period: 7/22–7/24
Return Period: 7/29–7/31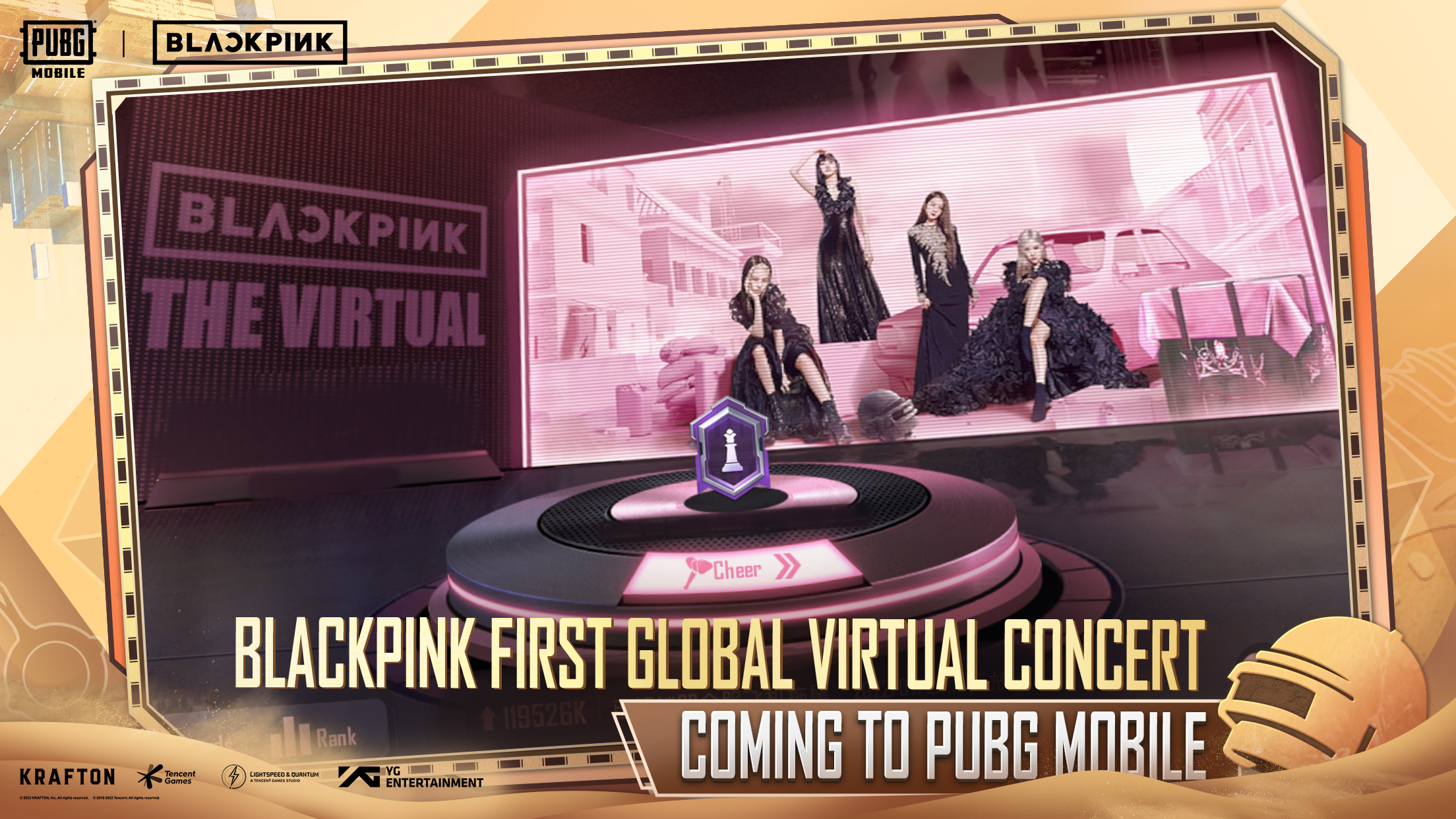 Ultimate Arena
Keep fighting until all enemies have been eliminated!
Enjoy tense and exciting multi-round battles. The first team to win 4 rounds will win the match! Each round is fought on a random map, so brainstorm with your team to eliminate the enemy as quickly as possible!
Tip: Use the Riot Shield wisely to protect yourself and your teammates from bullets.
● Available from: 8/11 at 02:00 (UTC +0)
● Maps: Erangel, Livik
● How to enter: Mode Selection - Ranked - Arena
Social
Cheer Park
Added more shooting range training options, such as the mid-range shooting range, sniper shooting range, et cetera. Let's find out who has the better shot!




2. Added a Set Trial Crate. Complete missions to try on rare sets in Cheer Park.




3. Added 2 beautiful and rare Skyboxes. Keep visiting different Cheer Parks and see if you will encounter them.




4. Improved the pack size of Cheer Park to further compress it while providing a more refreshing experience!
Chat Room
Added a Friend Invite and Invite Card feature to invite friends to chats quickly. Talk freely with your friends with the real-time voice messaging feature!
Results Improvements
Various medals can now be earned by achieving different highlights. What rare medals have you got?




2. Players who leave a match by themselves will now see their teammates that are still fighting, so they will no longer feel lonely on the results screen.




3. Reworked the results screen for titles to add more content and allow players to view the descriptions of titles by tapping on them.




4. Added Emote buttons on the results screen so that players can dance and celebrate with their teammates on the results screen.




5. Added a LIKE All button to quickly LIKE teammates with one tap. Give your teammates a LIKE!
Moments
Added status finishes to Moments so that players can add more personal touches to their statuses!
Season
C3S7
The new Cycle 3 Season 7 has started! Complete the new Ancient Secret-themed missions to unlock commemorative titles.
1. Season Period: 7/19 at 02:00–9/19 at 23:59 (UTC +0).
2. Season Rewards: C3S7 Glasses, C3S7 Set, C3S7 Parachute, C3S7 - QBU, C3S7 Mask, C3S7 Cover.
3. New Season Bonus Point Card and limited-time Rating Protection Card. Ranking up quickly is no longer a dream!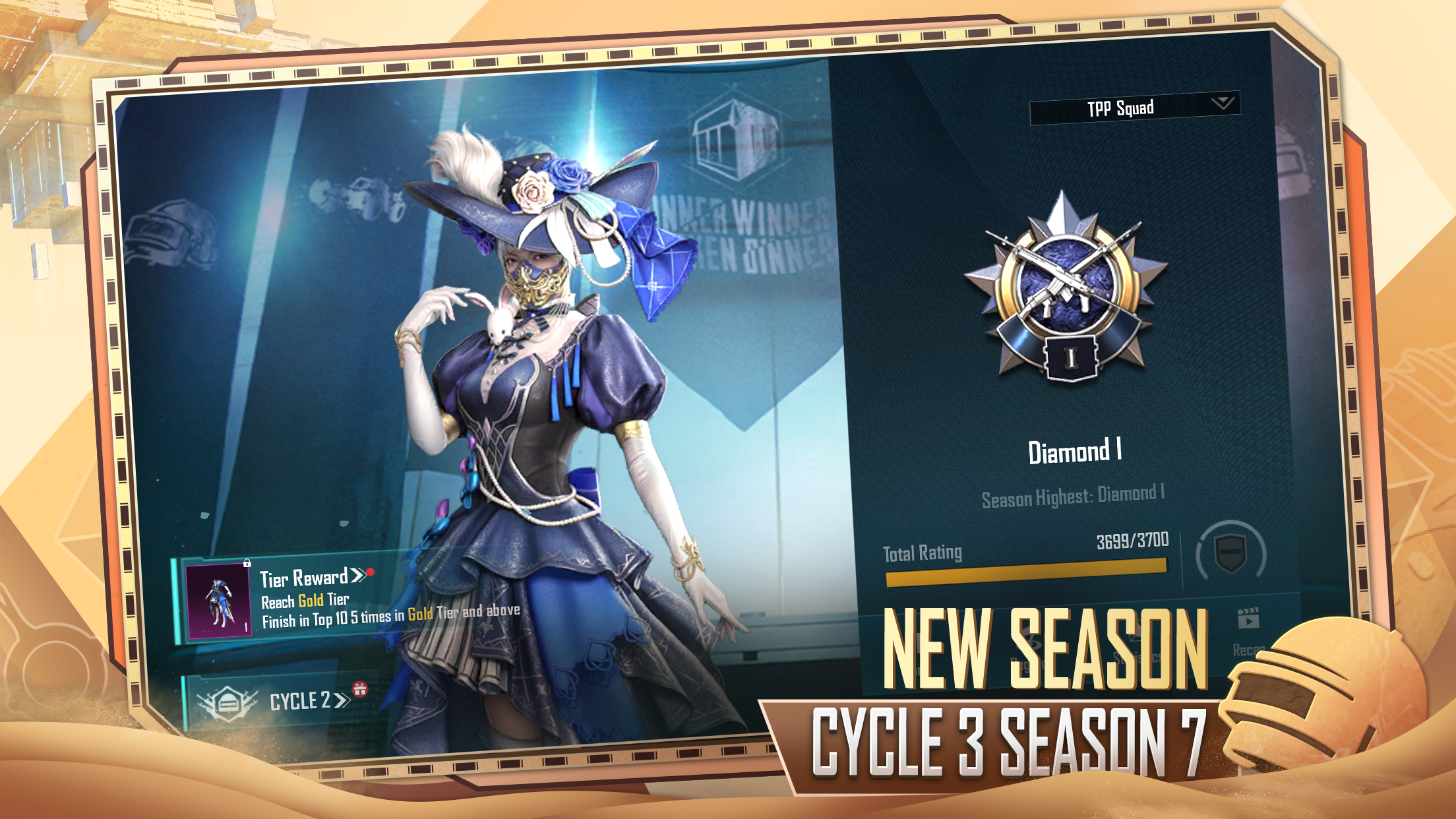 Royale Pass
Royale Pass Month 13: Exo-Genesis
The new Royale Pass Month has started. Redeem an RP-exclusive Wingman finish at 90% off and get Super Points Mission rebates!
Available from: 7/19 at 02:00–8/18 at 23:59 (UTC +0)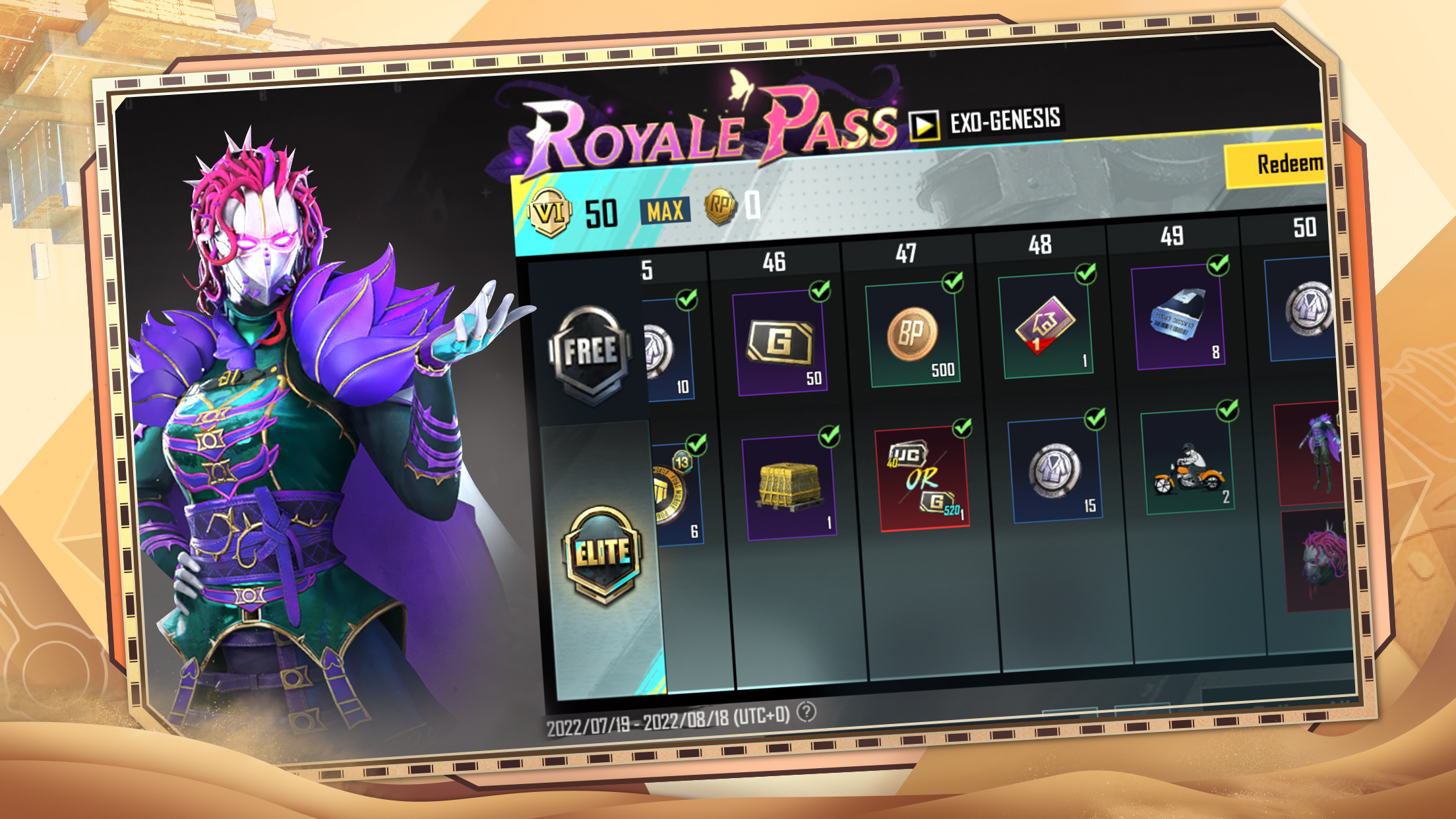 Other Improvements
Silvanus X-Suit
Players who have obtained the Silvanus X-Suit (6-Star) can now equip the Silvanus Mask separately from their inventory.
Subscriptions
Overhauled the subscription feature and upgraded some single-purpose vouchers to general vouchers. Get a discount of up to 75% off for the first daily Classic Crate. Updated the first-time subscription reward.
Basic Experience
Added a new AMR air drop sniper rifle and rebalanced SMGs and assault rifles.




● Metro Royale multiplayer now requires 80 Merit or above in order to play.




● Added Footsteps Training and Gunshot Training to the Individual Training Grounds and enabled customizable special training.




● Added the "Save to Cloud" function to the Control tab so that settings can be synced across multiple devices.




● The Resource Download Center, where resources are downloaded and deleted, has been upgraded to the Resource Management Center to improve the downloading experience.




● Improved the graphics of the results screen and the results image that can be shared.




● Improved in-match button controls to lower the chance of pressing a button by mistake.

Fixed the issue of bullet holes appearing on the surface of hot springs in Livik.




● Fixed the issue of unusual behavior when climbing over certain walls and windows in Livik.




● Fixed the issue of swimming outside the combat area in Metro Royale.